In this week's Roar: more uncertainty in China, concerns of what's to come in Europe and the US when China reopens, more bad news about fuel costs, and the latest on an important European green shipping initiative.
The tough news out of China continues. The country just released new economic data that shows a drop in all sectors. Construction starts are down 44% year-on-year, retail sales are down 11.1%, and manufacturing output is down by 4.6%, just to name a few. All of this is troubling news for the shipping industry since there's growing concern that China's economy will not rebound anytime soon.
If the pandemic has taught us anything, what happens in China has a big impact on global supply chains in due time. Europe foresees an "avalanche" of containers arriving once the lockdowns in Shanghai end, and pent-up cargo is released. This is at a time when wait times and congestion in Europe are already bad—although there has been some improvement in wait times recently.
Moving to the US, after an unusual amount of imports during the first four months of the year, port officials are worried about what's to come (see the chart below.) Peak shipping season is imminent and there are concerns the situation will become chaotic if it coincides with the release of pent-up cargo in Shanghai. This could mean another summer of gridlock, thanks to congestion. With that in mind, the port of Los Angeles is taking steps to increase cargo flow and move containers off the terminal.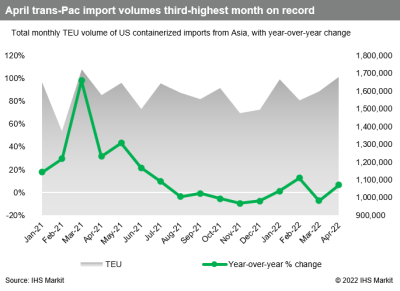 Not helping optimism is news regarding diesel fuel prices in the US. Economists are warning that the rising price of diesel increases the possibility of a US recession in 2023, thanks to higher inflationary pressure. Since the beginning of the year, the price of diesel has risen 51%. The expectation is that at some point (if it is not already), the higher price will be rolled into the price of consumer purchases, from produce to everything else.
Finally, the European Parliament's Committee on Environment, Public Health, and Food Safety (ENVI) adopted a report on the revision of the Emissions Trading System (EU ETS) policy. This is a small step toward Europe's goal of a green shipping industry by 2050.
For the rest of the week's top shipping news, check out the article highlights below.