In this week's Roar: a survey on supply chain risk, fuel at a long-time low, the impact of persistent high inventories, shifting ranks among ocean giants, and more talk about AI.
The results of a survey of 132 C-suite executives from around the world who are all members of the International Chamber of Shipping (ICS) are in. While there were several positives, members share that they're more concerned about risk than ever—over both the political and financial landscapes. Some existing and new concerns include: the war in Ukraine, territorial disputes in the South China Sea, South Asia's instability, skyrocketing food and energy prices, and worries over financial risks brought on by unilateral or regional regulations. And, like every industry, the ever-increasing risk of cyberattacks.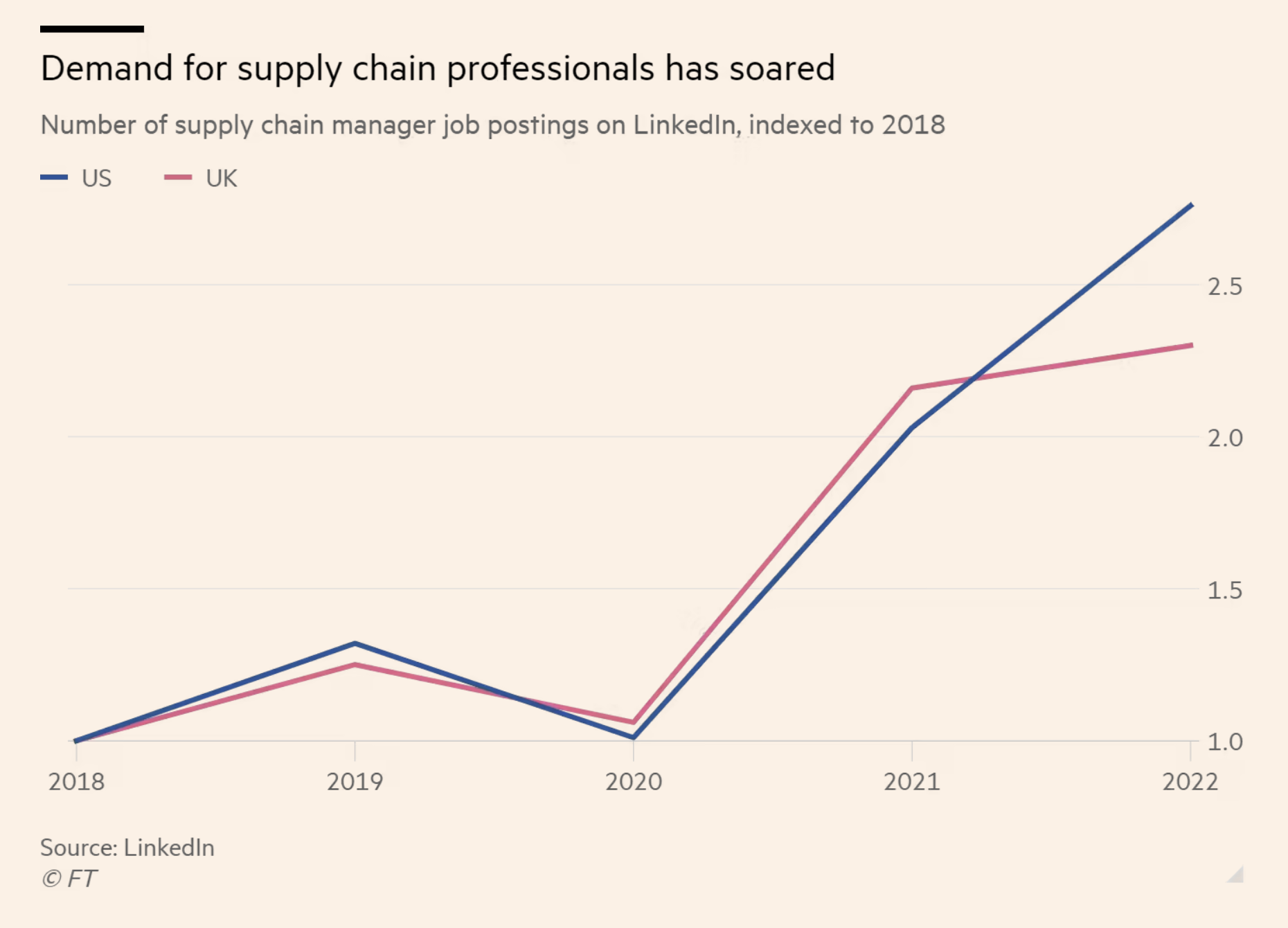 As a side note, it looks like all the attention supply chains got during the pandemic has translated to a big increase in demand for people with skills like us (chart from www.ft.com).
The price of diesel continues to decline, with an expectation of this summer's price coming in at $2 less than it was last summer. Unfortunately, there's an ironic reason for the price drop—higher interest rates.
Are retailers going to be able to catch a break anytime soon? From empty shelves to overstocked warehouses, it's been a tough few years. And they're still trying to carve away at bloated inventories—at a time when consumers have cut back on spending. Inventories peaked in October and have fallen since, but they're still much higher than they have been for several years. Now, retailers are doing a bit of juggling—trying to remain risk-averse while prioritizing cost control and margin protection. Excess inventory is costly—it eats away at profitability and efficiency.
On the seas, the winds of change are ever-changing. Maersk is at risk of losing its position as the world's second-largest container shipping company—after losing the number 1 spot it held for 25 years in 2021 to Mediterranean Shipping Co (MSC). CMA CGM, number 3 in the rankings, is about to surpass Maersk, thanks to 10 new Megamax containerships of 24,000 teu each.
AI is nothing new to the supply chain, but the emerging capabilities of ChatGPT have people buzzing about the commonality of what nearly all exhibitors are marketing—software that handles basic functions. For example, 90% of all individual software does 90% of what every other software does. But what's really interesting is that small percentage of the software that differentiates itself and whether it's enough to launch it to success.
For the rest of the week's top shipping news, check out the article highlights below.