In this week's Roar: labor talks on the West Coast, more questions than answers for when China reopens, air cargo growing importance, and a deep dive into supply chain sustainability.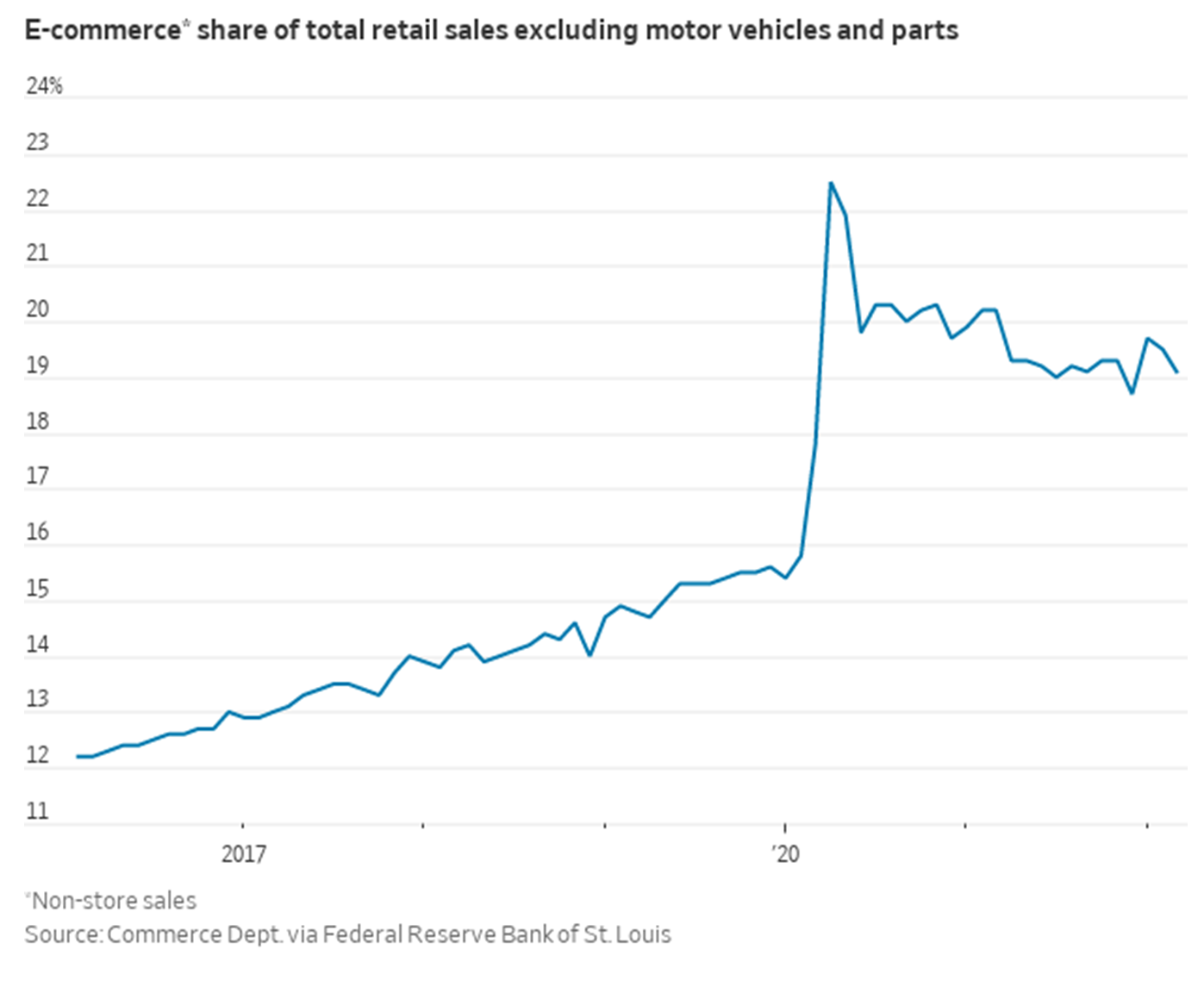 But first, we've all heard how pandemic-driven demand has created a boom in e-commerce and caused many of the supply chain problems we're dealing with today. This chart shows just how severe the shift to online retail has been.
Negotiations between the union that represents 22,000 West Coast dockworkers and the Pacific Maritime Association have begun. The current contract—which ends June 30—is already in a three-year extension, and the ILWU turned down a request for another extension that was made at the end of 2021. There's a very real fear that history will repeat itself and the current negotiations will lead to further disruptions in an already chaotic environment. One of the biggest points of contention between the two parties is automation at the terminals.
Despite looming turmoil, there is some good news at the Port of Los Angeles. So far, the port has not seen any significant impact or fallout from the Shanghai lockdowns. However, if lockdowns continue, the expectation is that West Coast ports will be affected. There has been some talk in the industry about a surge when Chinese lockdowns are lifted but even those in the industry disagree.
According to the JOC.com, industry sources are saying the uncertainties surrounding when China will end the COVID-19 lockdown in Shanghai are making it difficult for shippers and non-vessel-operating common carriers (NVOs) to plan their supply chains for the rest of the year. "I've never seen so many mixed signals," said one industry insider. "How long will it take [for Shanghai to come back]? Maybe four to eight weeks. Possibly 12 weeks."
2021 saw some significant changes in the industry, and one of those was a shift to air freight. It saw the strongest market growth since 2011, recording 11.2% growth in real terms, to $284.9bn. This was largely due to increased costs and decreased efficiency thanks to port congestion. Airfreight grew at double the rate of sea freight in 2021, and ongoing congestion at ports continues to draw shippers to the air freight market.
Finally, the supply chain continues to ponder what changes it can make to limit greenhouse gas emissions. However, there are barriers to achieving sustainability standards. One is the lack of environmental standards and governance of suppliers in many countries.
For the rest of the week's top shipping news, check out the article highlights below.