In this week's Roar: a balancing of volumes at US ports, important news regarding exclusions from China Section 301 Tariffs, drayage troubles in China, the cost of fuel hitting shippers, and some perspective on whether or not global supply chains are really worth the risk.
But first, if you have a spare 45 mins (or just enjoy supply chain videos), we recommend checking out this WSJ documentary. It's a well-produced explanation of where supply chains are at right now and how we got here.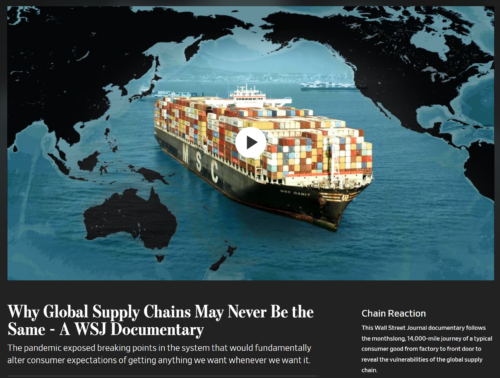 There may be a glimmer of hope on the horizon for congested US ports. To the west, congestion is easing as wait times drop. Part of this is due to a shift to U.S East and Gulf Coast ports, but the economy may be a factor as well as retail spending is trending down thanks to inflation.
Here is something importers should take note of. The Office of the United States Trade Representative announced its "determination to reinstate certain previously granted and extended product exclusions in the China Section 301 Investigation. The determination reinstates 352 of the 549 eligible exclusions."
Moving to issues in China, ongoing COVID shutdowns are hurting drayage. Stay-at-home orders mean drivers in some areas either can't leave their homes at all or they need to have a negative test report within 48 hours of pickups and or deliveries. The result? The movement of trade is slowing down in the area while prices are going up.
And speaking of prices going up, the volatility of fuel costs has shippers trying to gauge just how much higher fuel surcharges will impact their costs. Prices were already a cause for concern before the current Russia/Ukraine crisis, so the new uncertainty has some shifting their focus from the speed of delivery to the cost of delivery. Even though bunker prices have retreated in the past weeks, the price of diesel, gas, and jet fuel continue to rise or remain high. And at least on the part of diesel, this has an impact on the surcharges that both trucking carriers and railroads impose.
Finally, as though the industry hasn't had enough to deal with over the last few years, it looks like a shift in thinking will be necessary going forward—at least in terms of global sourcing strategies.
For the rest of the week's top shipping news, check out the article highlights below.