In this week's Roar: no blame for the FMC, more predictions for Peak, the latest on China, port congestion in Europe, and macro-economics taking a toll on air cargo.
It feels like the FMC is pointing fingers and not taking any responsibility for a rough few years.
The US Federal Maritime Commission (FMC), recently completed a report—the Fact Finding 29 International Ocean Transportation Supply Chain Engagement—saying that the supply chain chaos the world dealt with over the last two years is the consumer's fault. A commissioner at the FMC unequivocally stated that the Commission had done its job in keeping the carrier market competitive and that consumer demand and lack of container capacity were to blame for high rates.
In the same report, the Commission makes 12 recommendations, with a focus on pandemic-related issues including the assertion that collusion is simply a misconception and that outrageously high transportation prices are the product of supply and demand.
The recommendations:
An FMC international ocean shipping supply chain program.
A rule "to provide coherence and clarity on empty container return practices."
A rule "to provide coherence and clarity on earliest return date practices."
A requirement that ocean common carriers, seaports and marine terminals employ FMC compliance officers.
Providing information to the "shipping public about FMC competition enforcement, service contracts, forecasting and shippers associations, among other topics."
Enhanced cooperation with the U.S. Department of Agriculture concerning container availability.
An FMC investigation into "practices relating to the numerous charges assessed by ocean common carriers and seaports and marine terminals through tariffs."
A rule to "provide coherence and clarity on merchant haulage and carrier haulage."
Creating a national seaport, marine terminal and ocean carrier advisory committee.
Reviving an export rapid response team.
FMC "engagement to discuss blank sailing coordination and information availability."
"A reinvigorated focus on the extreme supply chain equipment dislocations in Memphis railheads, other rail facilities and other facilities around the country."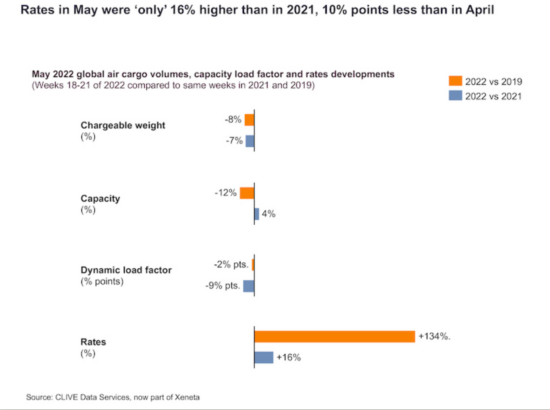 An important question this time of year is just how bad will this year's peak season be? All we can do is watch the indicators—which at this point remain unpredictable. Shanghai's reopening may be bad news for the industry since it could make already bad bottlenecks even worse. But it doesn't end there. If longshore contract negotiations turn acrimonious and lead to a strike or showdown, we could be looking at a repeat of 2021 in the eye.
With China finally beginning to lift some of its COVID-19 restrictions, a lag in confidence and demand remain even as factory activity slowly begins to pick up. The region is faced with a glut of supply thanks to huge inventories of finished goods waiting to be shipped—which will impact export prices.
This issue is having an impact on N. European ports as huge stacks of empty containers and hundreds of frustrated export boxes have built up at the major hubs as carriers blanked a third of their advertised sailings during the recent two-month Shanghai lockdowns. Moreover, the ports have used much of their off-dock overflow capacity for the long-term storage of thousands of customs-blocked Russia-destined containers.
Finally, air cargo market performance in May remained impacted by the continuing war in Ukraine, the 'cost of living crisis' causing consumers to watch their spend more carefully, stock market declines, higher interest rates, COVID-related restrictions in China, and more warnings of global recession. May's market data showed, once again, how susceptible air cargo is to macroeconomic events.
For the rest of the week's top shipping news, check out the article highlights below.