In this week's Roar: a coalition against China, no lift-off for air cargo, stabilization in ocean, embracing technology, and protecting U.S. supply chains.
Fourteen countries, all part of the newly formed Indo-Pacific Economic Framework (IPEF), have come together to force change and better coordination in the supply chain. Their intent? Weaken China's growing influence in Indo-Pacific trade.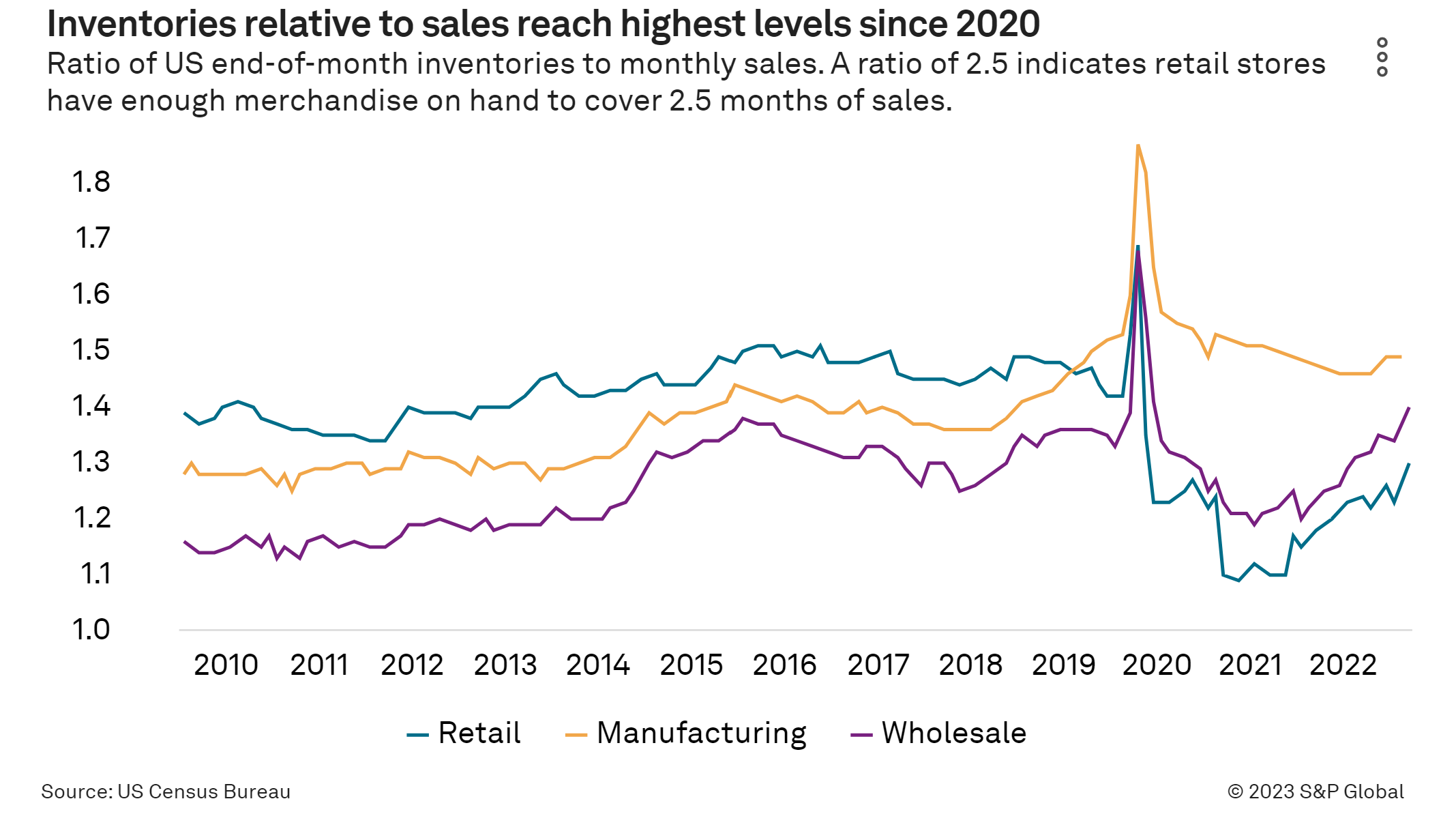 The countries, which would pull from some of the biggest economies in the world, including the U.S., Japan, and India, make up about $38 trillion in global economic output. Part of the initiative is driven by the need to create a network that will allow for emergency communications throughout the supply chain, a solution that could make the bottlenecks the industry saw throughout the pandemic a thing of the past.
In another measure of supply chain health, this chart from JOC.com shows that U.S. inventory to sales ratios remain on the rise.

Air freight can't seem to get off the ground in 2023. Maybe there are some good signs, however. Even while air cargo markets dropped by 11% in April, the passenger market continues to recover, with all Asia-Pacific airlines seeing a 250% year-on-year increase in international travelers.
Moving to trans-Pacific ocean freight, spot rates have steadied and carriers are scaling back on blank sailings. So far, they've blanked 32 sailings in May, compared to 46 in April. Shippers booked more space in April, pushing vessel utilization on the West Coast up, thanks to capacity cuts and rate increases.
One way many organizations are embracing change is by investing in technology. This industry is no different, as logistics technology is a way to create the agility necessary to sidestep the kind of risk the pandemic brought. A recent report shows that of the more than 1,000 manufacturing and supply chain leaders surveyed, 87% said that the pandemic had highlighted—and elevated—the need for strategic supply chains. Additionally, nearly 78% stated that they had accelerated their digital transformation, while 64% have increased digital supply chain investments, with automation, visibility, and data analytics being key focuses.
Congress is looking into 12 new pieces of legislation that would strengthen and protect US supply chains. One is a bill that would allow the Federal Maritime Commission (FMC) to monitor the market for manipulation and anti-competitive issues. However, despite requests from beneficial cargo owners, the FMC hasn't been given the power to deal with storage fees, such as demurrage charges billed by rail carriers on intermodal shipments. As things stand now, BCOs have no one to turn to to challenge these fees.
For the rest of the week's top shipping news, check out the article highlights below.