In this week's Roar: another big win for labor relations, slow times in Europe, sinking shipper sentiment, downsizing at Maersk, and reimagining sustainable supply chains.
Although last week brought the usual hodgepodge of one step forward, one step back in logistics news, there is one very big positive. UPS and the International Brotherhood of Teamsters have come to a tentative agreement on a five-year contract. It provides workplace security for existing workers along with better pay, and an allowance for more full-time jobs, leaving both sides feeling they've reached a win-win agreement. Shippers everywhere were bracing for the worst, for fear of a strike which thankfully appears to have been averted.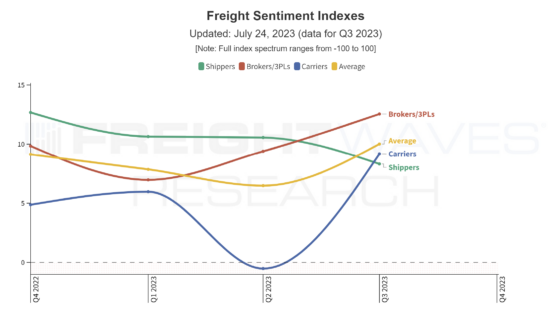 Utilization in northern Europe is below 60% at some terminals. At this time of year, terminals should be jam-packed with peak season imports. This is a huge disparity when compared to the same time 12 months ago when terminals were busy. For example, the Port of Rotterdam – Northern Europe's busiest container hub — reports first-half throughput figures that are 8.1% down when compared to last year. This is due to current geopolitical issues such as sanctions against Russia, inflation, and fewer imports from Asia. Add in a loss of revenue from declining storage charges, rising energy costs, inflation, and huge wage settlements, things aren't looking good for terminal operators at the moment.
This year has been a bit of a roller coaster for the U.S. freight market. The year started with spot rates tanking thanks to a capacity glut and then the uncertainty regarding the troubles Yellow is having, FedEx pilots rejecting a contract amendment, West Coast ports dealing with shutdowns, and a potential UPS strike. At least there's a tentative agreement between UPS and the Teamsters. Perhaps worst of all, as the chart shows, shipper sentiment has dropped below carriers and brokers for the first time in a while.
Remember just a little while ago when carriers were ordering new supersized container ships? How things have changed. According to Alphaliner, Maersk has just slashed its fleet size. Previously, Maersk aimed to retain their fleet, but to date, they have reduced it more than any other global carrier.
What should a sustainable supply chain look like? Some think we need to start looking at the supply chain as parts of a whole instead of a whole — and how those parts are connected. This includes looking at how efficient each link in the chain is. Often, efficiency and sustainability are seen as competing interests in the supply chain, but there are ways that companies can achieve both.
For the rest of the week's top shipping news, check out the article highlights below.