In this week's Roar: improved service performance in ocean freight, good news in the Panama Canal, a smoother silk road, preventing future port labor slowdowns, and growing demand for reusable transport materials.
The Ocean Shipping Index for the first quarter of 2023 is out, and it has some good news—a reduction in shipping times and increased sourcing from North America as opposed to Asia. Specifically, cargo times between Asia and North America dropped by 11 days when compared to 4th quarter 2022 and 24 days when compared to 1st quarter 2022. All thanks to less goods coming in from Asia.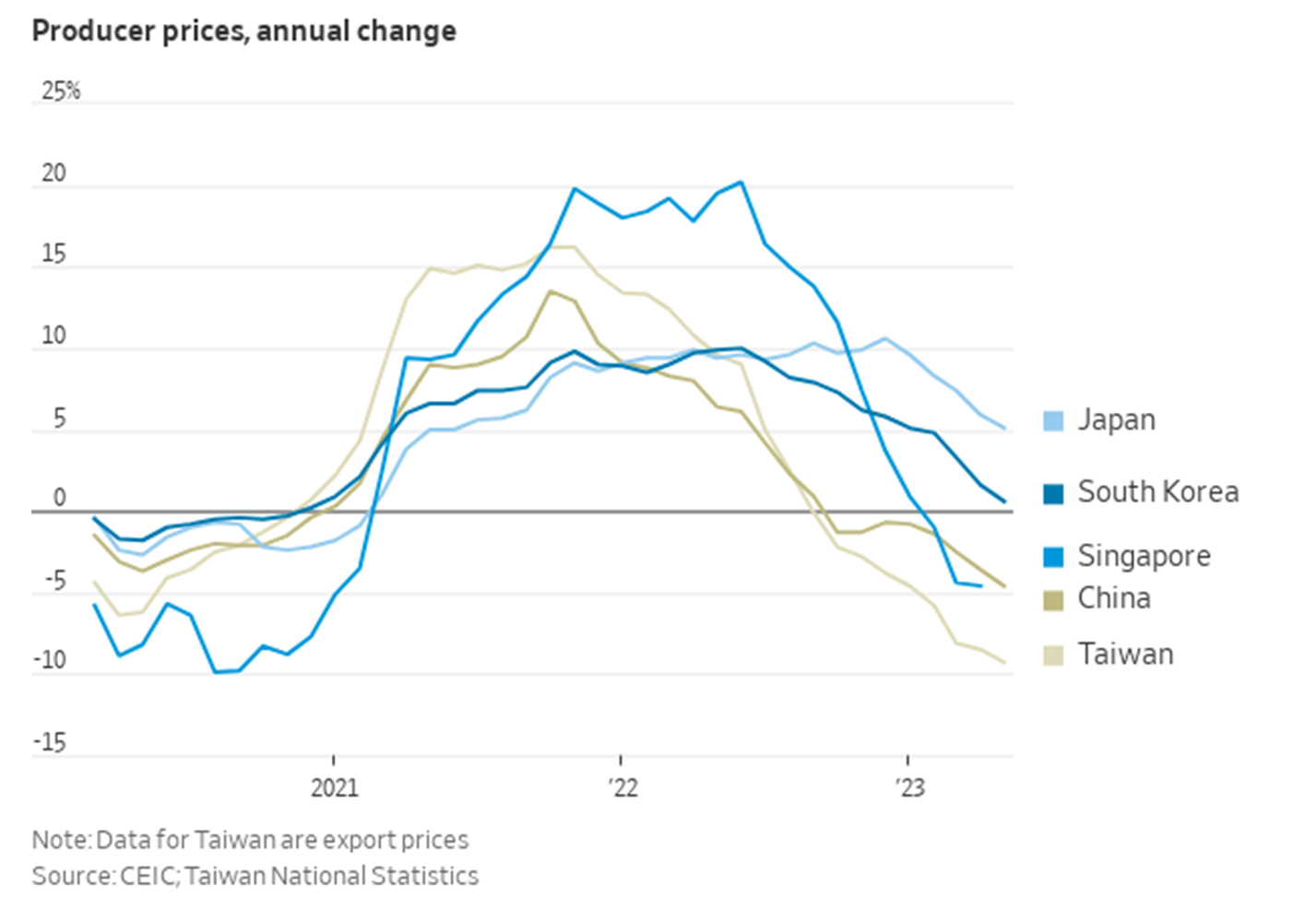 Things are looking brighter for the truck freight sector as well, with improvements in both availability and service, and a year-on-year drop in spot rates.
Inflation is tempering as well. As the chart shows, producer prices in many key parts of Asia are decreasing or turning negative.
Dark skies and rain have turned things around in the Panama Canal. Conditions in the drought-stricken region had pushed the Panama Canal Authority (ACP) to impose restrictions that would reduce the number of vessels allowed to use the canal. However, thanks to recent rainfall—and more in the forecast—restrictions were to go into effect on June 25 and July 9, but the Authority is allowing ships to sail at their previous depth limits. There are still reports of congestion getting through the canal, however.
The connection between Europe and Asia just got a little faster. A trio of rail companies from Azerbaijan, Georgia, and Kazakhstan has signed a new partnership with the goal of cutting China-Europe transit time by up to 15 days. With the new partnership in place, they hope to reduce bottlenecks and "make the Middle Corridor even more attractive to Central Asia, China and other Asian countries." Over the last year, trade between the three countries has increased by seven times, totaling $600 million, and projections are that they'll reach a billion-dollar threshold soon.
Four Republican senators are wading into the dispute between longshoremen and port operators, looking to change workers' right-to-strike laws—the National Labor Relations Act (NLRA) and Labor Management Relations Act (LMRA). If legislation were passed, it would add two new types of unfair labor practices: engaging in a labor slowdown at any time and/or trying to stop any modernization efforts at a port.
With a view to sustainability, demand for reusable transport packaging (RPT) has been increasing significantly over the last several years, and new data is expected to be released this year. The Reusable Packaging Association (RPA) released a report in 2020, showing an increased demand that year of 66%, and a forecast of about 88% in 2021. It's expected that the new report will show even higher numbers for this year. Plastic packaging has been getting a lot of attention, but so has wood and metal, both deemed as durable and suitable for use in logistics. They are much better alternatives than the corrugated boxes and containers currently in use, which are essentially one-way and throw-away.
For the rest of the week's top shipping news, check out the article highlights below.