In this week's Roar: a struggling air freight market, ocean freight holding its own, the benefits of telematics for shipping, labor agreement in British Columbia, and women taking their place in supply chain.
It's a tough time for air cargo. Why? Factors such as the economy, high debt, and ongoing supply chain issues mean shippers have little to no expectation of inventory levels being replenished anytime this year. In fact, some reports indicate that demand for air cargo will weaken further at a time when belly capacity is already high and getting higher. For example, routes between North America and Europe show that capacity was up 26% for April compared March 2023.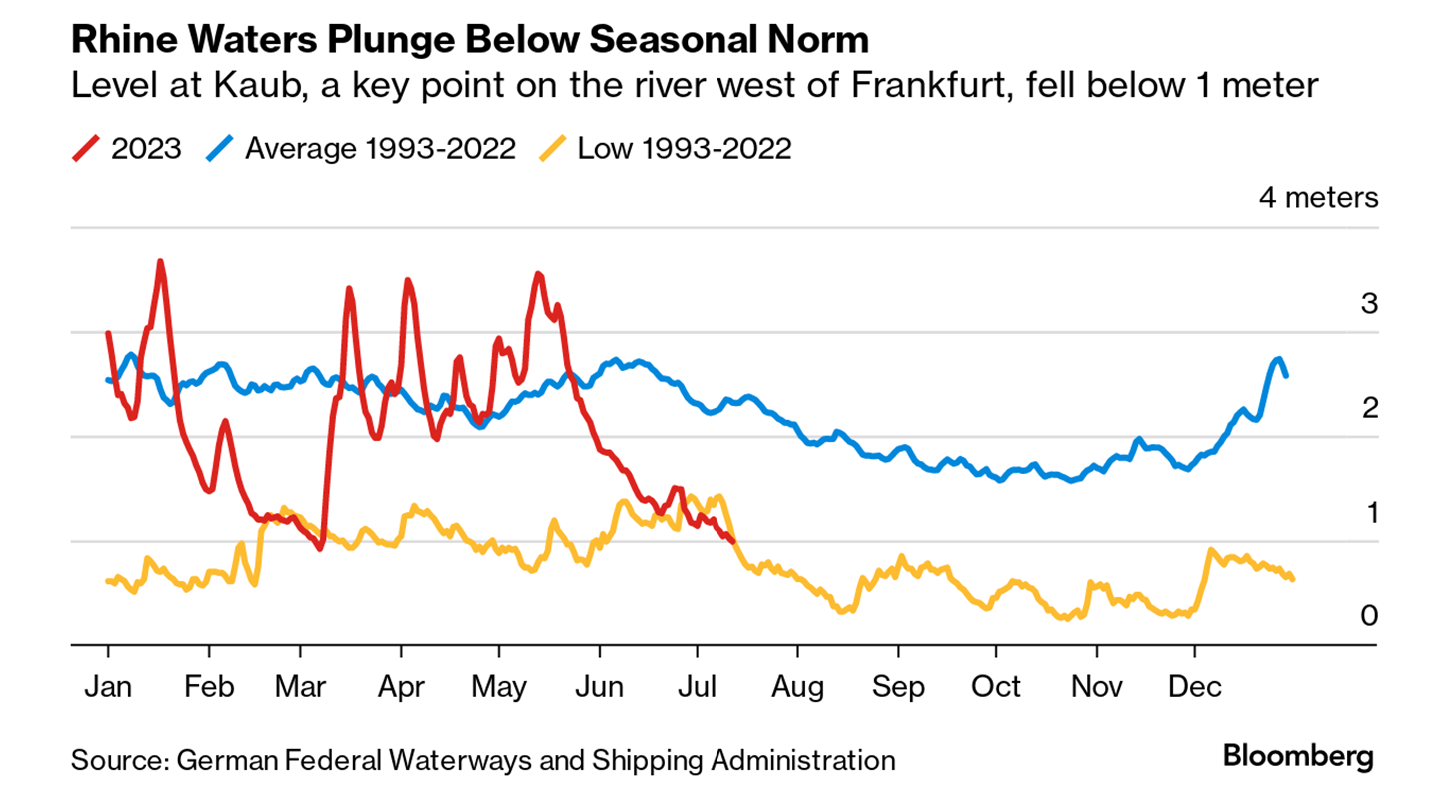 A new problem may be taking shape, as a key European freight waterway is at near-historic low levels that may begin to impact the movement of goods in the region. See the chart from Bloomberg.
The container market is doing ok despite predictions of doom and gloom. U.S. containerized imports are still exceeding pre-COVID levels, with June imports up 6% when compared to June 2019. U.S. imports are expected to remain stable over the summer based on current bookings and scheduled departures from foreign ports, which have been on the rise since early May. In fact, recent scheduled bookings are the highest since December 2022.
It's expected that by 2027, nearly a third of all containers will be equipped with smart hardware — specifically, a telematics device that provides real-time tracking and monitoring. This is slightly up from a previous prediction and thanks to a rapid increase in utilization already taking place. The hope is that the increased transparency that smart containers will provide will lead to greater confidence in maritime supply chains thanks to "better predictability [and] better planning [that] could ultimately allow [BCOs] to manage or lessen inventory."
There appears to be good news out of Canada late last week. The nearly two-week-old port strike appears to be over after the International Longshore and Warehouse Union Canada and the B.C. Maritime Employers Association agreed to a tentative new deal. About 7,400 workers have been on strike since July 1, halting shipments in and out of about 30 ports in B.C., including Canada's largest, the Port of Vancouver.
Women continue to find their place in the supply chain. A new survey from Gartner shows women make up 41% of the total workforce, up from 39% last year. But growth at the senior level is slower, up just 1% with women in 31% of senior management roles and 34% of managerial or supervisory positions.
For the rest of the week's top shipping news, check out the article highlights below.