In this week's Roar: it's labor and ports, and ports and labor, slowing ocean freight demand, and more manufacturing slowdowns in China.
After two plus years of unprecedented disruption in the industry, it's facing a different type of pressure—this time from within.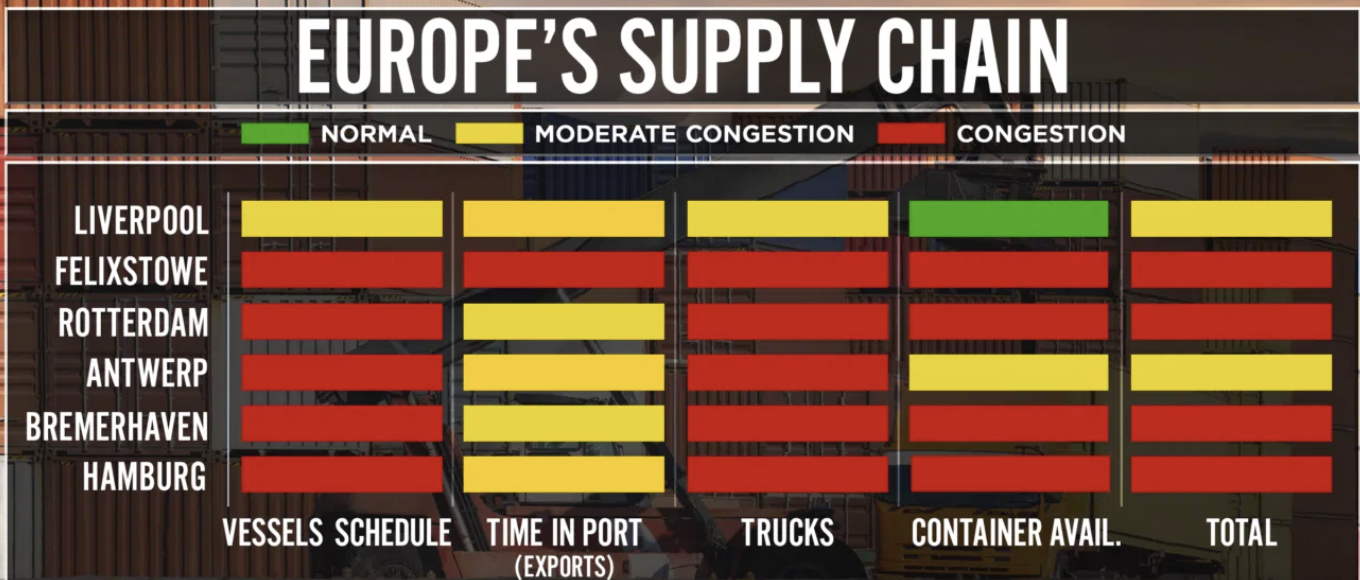 In more than one country, the people that move goods through ports are increasingly unhappy, especially with their wages. Just one example is the Port of Felixstowe in the UK, where the union claims the port owner is more interested in keeping shareholders happy than workers. The union rejected an 8% pay raise, pointing out the port owner, has seen a 75% increase in profits in 2021.
The European port heatmap from CNBC is showing a lot of red, which is not a good thing.
Workers are walking out and taking action, and what's going on at Felixstowe will have far-reaching implications. Congestion and blank sailings are already increasing across Europe, leaving ports in Rotterdam, Hamburg, and Bremerhaven struggling to accommodate vessels. Cargo lead time increased to 27 days on the TransAtlantic route, and some are warning that it will take about two months to clear things out.
US companies that export to the UK will also be affected—and they already have ongoing troubles of their own.
Contract negotiations between the International Longshore and Warehouse Union (ILWU) and the Pacific Maritime Association (PMA) have hit a wall. The issue is Terminal 5 in Seattle. However, there is no clear status on the issue. But, this particular terminal, due to being operated semi-autonomously has been a sticking point in past negotiations and some experts predicted months ago T5 would become the deal-breaker this go around.
For the time being with labor tension and port congestion being so ubiquitous, all companies should be watching the status of their key trades and be prepared with alternatives where possible.
Next up, new numbers from Sea-Intelligence show that the tide has reversed on record earnings in container shipping. Between November 2020 and January 2022, the demand remained 10% higher than capacity, but recent data puts the number at 2% in June. Demand is expected to further decrease thanks to inflation and inventory build-up.
Finally, weather conditions in China are bringing many factories there to a standstill. Authorities have instituted rolling blackouts after a record heatwave in the southwest, a step they often take to ration power output.
For the rest of the week's top shipping news, check out the article highlights below.