In this week's Roar: decarbonization of supply chains, pushback on ocean rate regulation, more container capacity, a sad ending for Yellow Freight, and the growing need for better inventory management
Sustainability is something we hear a lot about, for good reason, and the future is based on the sustainable practices we learn and implement today. Decarbonization is one of the biggest goals that the supply chain is eyeing in an effort to remain sustainable. However, with any goal, it's advisable to consider what impact each change you make to achieve that goal will have across the board. Because sometimes, good intentions can produce bad consequences. For example, at what price will the race for decarbonization come? Balancing the impact can affect customers, suppliers, and even the ROI of a business.
The FMC seems to be stuck in the middle of shippers and carriers who are unhappy with further modifications to a proposed rule it made last year. At that time, the FMC attempted to define what is an "unreasonable refusal to deal or negotiate." No one, it seemed, was happy with that proposal. So in June, it issued a supplemental notice of proposed rulemaking. Unfortunately, this has upset carriers even more. They feel that the commission may be setting itself up as an authority to regulate prices. Additionally, the new proposal would force carriers to file an annual export policy with the agency — which would need to include their pricing strategies, services offered, strategies for providing equipment, and a list of the markets it serves.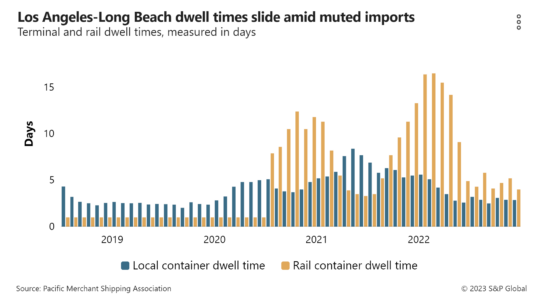 On the seas, about 40 new ships were delivered in June, adding to the nearly 1 million teu of capacity delivered in the first half of the year – and about the same amount is expected for the second half. It's not expected that the upcoming peak season will be enough to put a dent in the current overcapacity.
In another ocean container-related story, as shown by the chart, local container dwell time has normalized, rail container dwell remains volatile and high compared to pre-pandemic times.
As proof that huge debt coupled with fleeing customers is unsustainable. Yellow, the third-largest LTL carrier in the states, has ceased operations as they ready for bankruptcy. It appears their troubles may have begun in the early 2000s with several questionable acquisitions. That, matched with rising debt, brought them close to bankruptcy in 2009, although they managed to escape. Even a federal bailout during the pandemic didn't help, and this year its stock is down 94% from what it was at the beginning of 2022. Their bankruptcy will be the largest in US trucking history and will impact 22,000 unionized jobs and 8,000 non-unionized jobs.
After living through the unpredictability of the last several years, many companies are now preparing for unpredictability by keeping large inventories on hand. This is expected to lead to an increase in warehouse construction in 2024, which will also drive the need for more automation tools. Thanks to that, the automation industry is expected to seek double-digit growth by 2025.
For the rest of the week's top shipping news, check out the article highlights below.