In this week's Roar: a bottom for air freight markets, another important labor agreement gets done, tough times for trade, rising fuel costs, and improving how data is used in the supply chain.
Things have been challenging in the air freight segment for a while, with volumes close to bottoming out. The second quarter had many providers reporting double-digit volume declines and yields falling 30% or greater. But there may be some good news, with many feeling things will be on the upswing soon. One insider said he sees "…green shoots with consumer confidence and inflation abatement" that could be the start of a gradual return of demand.
In maritime news, another one of the many shipping-related labor disruptions can officially be put to rest. On Canada's West Coast, 74.66% of the International Longshore and Warehouse Union Canada (ILWU Canada) voted in favor of the new labor deal. This vote puts to the rest the on-again-off-again work stoppages and should bring sustained stability to the rest of the West Coast ports. With issues growing at the Panama Canal, this is a good thing for importers.
In trade news, this chart from Bloomberg shows a shift in where U.S. companies are sourcing goods. Is this a permanent result of the pandemic?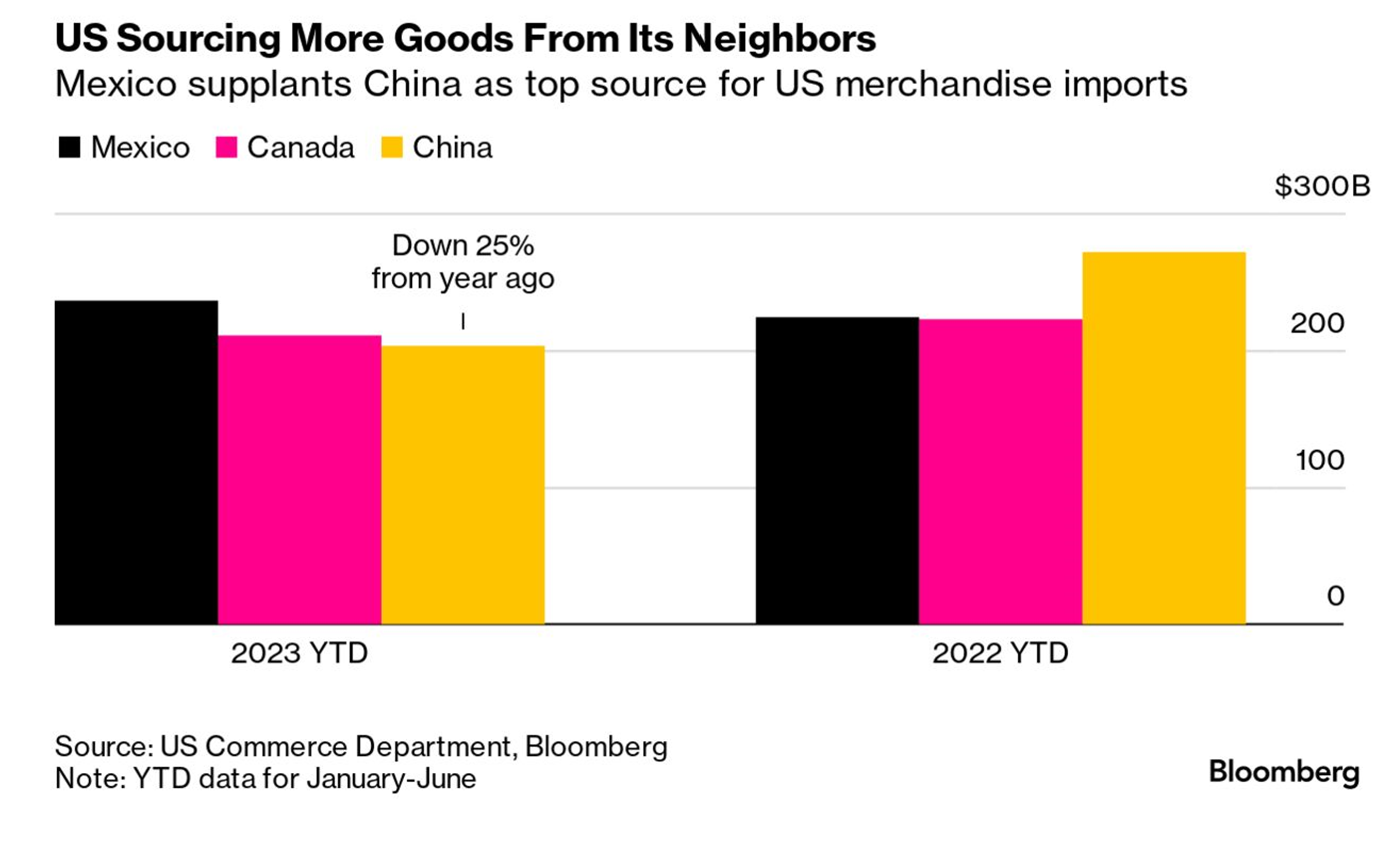 In the U.S., the trade deficit fell again in June, down 4% to $65.5 billion. While deficits can be good or bad, depending on the circumstances, in this case it could be a bad sign for the economy. One factor is the ongoing strife between the U.S. and China. The U.S. deficit with China fell another $2.1 billion in June, and things are expected to worsen.
In the last five weeks, the average weekly retail price of diesel spiked by 47.2 cents, pushing it to the highest level since March 13—an increase of about 12%. However, for a bit of perspective, it's still 75.4 cents lower than in August of last year. The spike is attributed mainly to Saudi Arabia cutting supply by a further million barrels a day in July—in addition to the 1.16 million cut they made in April.
To satisfy modern shoppers, retail supply chains need to be improving continually. Data can help. It just needs to be shared and interpreted in useful ways. Specifically, data insights can be used to identify real-time stock issues—why and how are they happening? Instead of just buying more or buying earlier, businesses need to find and address the causes of out-of-stock issues. While all of this sounds great, there needs to be buy-in from suppliers and retailers and a willingness to work together to identify issues and find solutions.
For the rest of the week's top shipping news, check out the article highlights below.