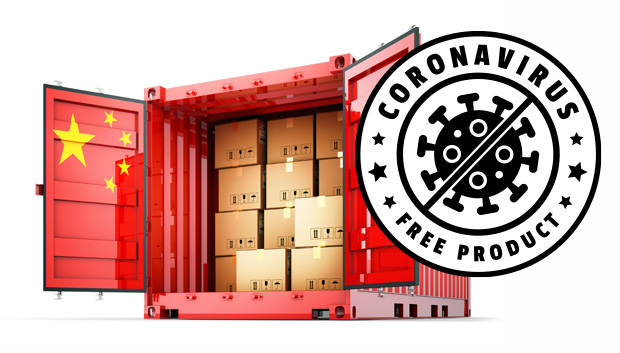 By
Nick Hammons
Just when supply chain instability caused by the trade war with China seemed to be easing, the coronavirus struck, crippling businesses and causing concern for people around the world.
According to Britain's MRC Centre for Global Infectious Disease Analysis, one percent of those who contract the virus will die from it
After one of their China employees came down with the virus, Singapore's largest bank evacuated hundreds of staff
The US State Department has given Hong Kong consular staff the option to leave, though most are expected to stay
Soon, the hardest times of the trade wars might seem like the good old days. Here are six ways the coronavirus impacts supply chains today and will continue to do so for an unspecified time.
Internal Disarray | There are factories and shipping facilities that that have been closed by local government that the Chinese Communist Party (CCP) insists be opened. Factories that remain closed even though they could be open may strike us as wasteful, but what if those facilities are potential hotbeds of disease? Who is going to win these battles, governments or the party? No one knows.
Reports of Factory Openings Can't Be Trusted | Your factory may tell you that they will reopen on a given date, only to tell you on that date that they are still not open and won't be for another week. As noted in #1, factories are at the mercy of local governments and the CCP as to when they can open. There are rumors that some factories will not open until March. Some analysts have advanced the theory that picking opening dates that are advantageous to its stock market is more important to China than facility safety.
Open Doesn't Mean Operating at Full Speed | As CBS reported on February 10, two of Apple's Foxconn factories have reopened, but only about 10% of their workforce has returned to work. These facilities are responsible for most iPhone production. A substantial percentage of Chinese workers are migrants who may be caught up in travel restrictions. Until factories actually open, they have no idea how many workers will show up to work. If a company with the economic power and influence of Foxconn can have its productivity stifled, just think how difficult reopening is for smaller factories.
Chinese Factories Often Rely on Foreign Suppliers | Even if a factory is open and its entire workforce reports to work, it can't make goods if the parts it needs are held up due to shipping constraints. Just as airlines have stopped flying to China, shipping lines have stopped going there as well. Plus, there are major workforce shortages on the docks and an inability to move goods inland via truck, train or plane. Even with much less traffic to handle, China's ports can't keep up due to the lack of workers.
Factories in Other Asian Nations Rely on Chinese Suppliers | This is the flip side of #4. In recent years many manufacturers have moved their factories out of China to reduce costs and keep their goods tariff free. But if the factory has moved to Vietnam or another country in Asia, it's almost surely reliant on parts and supplies they receive from China. That means their factory is subject to most of the supply-chain problems Chinese factories cope with.

In Vietnam, 50 percent of component parts in goods manufactured there are sourced from China. In additions to the problems in China, the government of Vietnam is blocking imports from China to block importation of the virus.
According to the Washington Post, garment manufacturers in Cambodia get 60 percent of their raw materials from China. Reduced production has manufacturers considering layoffs.
A Hyundai plant in Korea suspended operations because it was receiving no parts from China.

Problems Won't End When the Virus Does | If the coronavirus ends tomorrow, your Chinese factories will still feel the economic impact of having been shut down for weeks. Add to that all of the pre-virus problems that started to emanate from China as relationships with factories and suppliers changed due to the trade war and many manufacturing operations being moved out of China. For many American companies, relationships with Chinese companies were already starting to suffer. The coronavirus has only intensified the problem.
Final Thoughts
Navigating the logistical twists and turns of the coronavirus is a major challenge, and will remain so for some time. Trade with China in particular and Asia in general is a major part of Jaguar Freight's business. You can be sure that we will stay on top of the coronavirus situation.
For manufacturers looking for a new, more stable source of goods, take a look at our article, Mexico: An Increasingly Attractive Option for Sourcing US-Bound Goods.
To learn more about how Jaguar Freight can help you through these troubling times, contact us today.