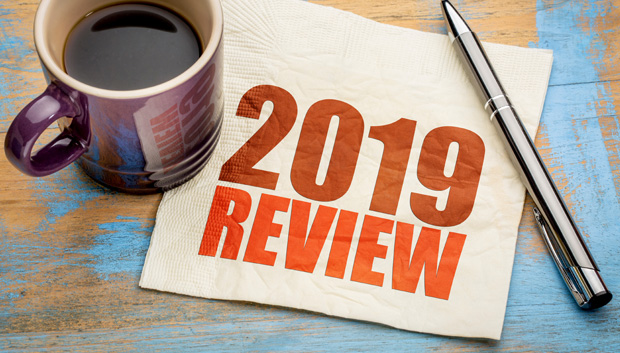 By
Nick Hammons
At the hectic ending of one year and the beginning of another, it's easy to miss items you would have paid attention to at any other time of year. Jaguar Freight has put together this overview of 10 items that may have escaped your attention. It's a good read that will help get you caught up in a hurry.
1.  Full Senate Approval Is Last Step for USMCA
The United States-Mexico-Canada Agreement, the replacement for NAFTA, was passed by the Senate Finance Committee on January 7 and awaits passage in the full Senate. After being ratified by Canada and Mexico, the original version of the trade pact was held up in the House of Representatives as Democrats negotiated to secure higher labor and environmental standards. The House passed the bill with negotiated changes last month and sent it on to the Senate.
Source: CNBC
2.  Europe Leads Descent Into Worldwide Export Recession
The heady high-export days of 2018 gave way to three consecutive declining quarters of export activity for all regions, including Asia, Americas, Europe, and Middle East & Africa (MEA), statistically putting the world in an export recession. The downturn was led by Europe, which had enjoyed the greatest export growth in Q1 and Q2 of 2018. The global decline in exports accelerated throughout 2019, reaching a low point in Q4. Looking ahead, the US trade deficit with the EU could trigger a new trade war in 2020.
Source: Panjiva
3.  Trade Volume Expected to Grow in 2020
IHS Markits forecasts that world trade volume will grow by 2.7 percent in 2020. This follows increases of only 0.6 percent in 2018 and 0.3 percent in 2019. IHS Markits acknowledges that their forecast is vulnerable to several key factors, including:
Lower growth in the US and Canada
Unpredictability of US trade policies
Impending presidential impeachment and upcoming election
Outcome of US-China trade negotiations
Brexit
Source: IHS Markits
4.  Trade War Leaves Scars
Bilateral trade between the US and China fell 15.2 percent over the 12-month period ending November 30, 2019. Comparing that period with the previous 12 months, US exports to China dropped 21.6 percent, while China exports to the US fell only 2.2 percent. Some analysts believe the new trade agreement announced between the two countries will strongly favor the US, but the deals of Phase 1 purchase commitments have not been completed.
Source: Panjiva
5.  Experts Disagree on Trade War's Biggest Loser
Foreign Affairs asked a large pool of trade experts whether they agreed or disagreed with the following statement: "The trade war has hurt the United States more than it has hurt China."
Here's how they responses broke down:
Strongly Agree – 5
Agree – 13
Neutral – 9
Disagree – 12
Strongly Disagree – 4
Obviously, there is no clear consensus on the question of who the trade war's biggest loser is. Click the link below to see who responded and read their thoughts on the matter.
Source: Foreign Affairs
6.  British Industry Starts Pullback From EU
Boris Johnson's recent landslide victory is a clear sign that a final Brexit agreement may be near. British industrial firms aren't waiting to update their supply chains. Over the 12 months prior to October 31, 2019, the proportion of intermediate industrial supplies and equipment sourced from Europe declined from 51.6 percent in 2015 to 48.5 percent in 2016 to 45.9 in 2019. This number is almost certain to decline substantially over the next 12 months.
Source: Panjiva
7.  Continued Slow Growth Forecast for 2020
Due to a slower recovery in trade and investment, the World Bank lowered its global growth forecasts for 2019 and 2020. Calling out 2019 as the weakest economic expansion since the global great recession of a decade ago and citing continued vulnerability to trade volatility and geopolitical tensions, the World Bank reduced forecasted growth for both years by 0.2 percent in its Global Economic Prospects report. The growth forecast is now 2.4 percent for 2019 and 2.5 percent for 2020.
Source: World Bank
8.  US Trade Deficit Reduced but Not Eliminated
Trade deficits are the Trump administration's favorite way of measuring the fairness of trade relationships. So, it's notable that the trade war with China reduced that year-to-year trade deficit by 10.2 percent. Also notable is that the current deficit is still 6.4 percent higher than it was in 2016. The second-largest contributor to the trade deficit is the EU, where the deficit has grown by 22.4 percent since 2016, including a 6.4 percent rise in the past 12 months. According to the Financial Times, the US Trade Representative is focusing on the deficit with the EU.
Source: Panjiva
9.  Three Factors Could Prove Problematic for Positive Growth Outlook
The International Monetary Fund is predicting a strong rebound in 2020, with global growth expected to reach 3.4 percent. Though less aggressive, the World Bank is also forecasting healthy growth figures. These predictions could be in trouble if any of three potentially problematic factors come into play:
Trade wars
Slowing of the economy in China
Global debt.
Follow the link below for an in-depth look from Foreign Policy.
Source: Foreign Policy
10.  Businesses Getting Used to Trade Volatility
While trade volatility is never preferred to certainty, businesses seem to be getting used to the uncertainty of today's trade policies. At least that's what the conference call monitoring data shows. Since October 31, the proportion of calls that included mention of tariffs or Brexit dropped to 20.9 percent, the lowest since Q2 2018.
Source: Panjiva
Whether you were already aware of all 10 of these items (if so, go to the head of the class) or every one of them was new to you, Jaguar Freight wants to assure you that we stay on top of everything in the world of global shipping. Whenever you need our insight or help with a specific shipment, reach out to your Jaguar Freight contact at (516) 600-0170, or send us a message.